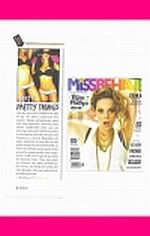 Chocolate and peanut butter. Hepburn and Tracy. Gin and vermouth. Some pairings are so perfect, they're legendary.

And you can add one more to the list: Graffiti Pink and Missbehave magazine.

We just adore our pals over at Missbehave, the magazine "for the fashion rebel," and they're returning the love by highlighting Graffiti Pink in their latest issue. Help us say "thanks" by picking up a copy at your local Tower, Barnes and Noble, Borders, or other major newsstand today. And check out their oh-so-chic website at www.missbehavemag.com.